Get Ready to Swoon Over the Most OMG Met Gala Looks of All-Time
When fashion meets art.
There's nothing quite as magical as the Met Gala. It's the one night where celebrities and socialites bring the glitz and the glamour to the red carpet. Being basic and subtle is not part of the dress code!
If anything, the Met Ball is a place where stars spread their peacock wings and show off their lavish and larger-than-life designs. You're guaranteed to see a parade of unbelievable pieces that are worthy of display at the Metropolitan Museum of Art.
Case in point: Rihanna's dreamy haute couture ensemble by Guo Pei that blew everyone away in 2015.
The songstress lit up the room in a bright-yellow, fur-lined cape that enveloped the red carpet with its 16-foot train. A whole team surrounded the pop star in order to keep the intricately embroidered train looking its best.
RiRi's fuchsia corset by Agent Provocateur and her gold headpiece tied the entire lewk together.
Another major moment that stopped everyone in their tracks? Lady Gaga's take on the "Camp: Notes on Fashion" theme. The Oscar winner put on a show with her dramatic outfit changes… which happened on the red carpet!
Moreover, she came prepared with unique props and accessories that matched each ensemble.
Of course, we're only scratching the surface here when it comes to unforgettable style moments at the Met Gala.
Take a walk down memory lane and see all of the OMG looks to hit the star-studded event over the years.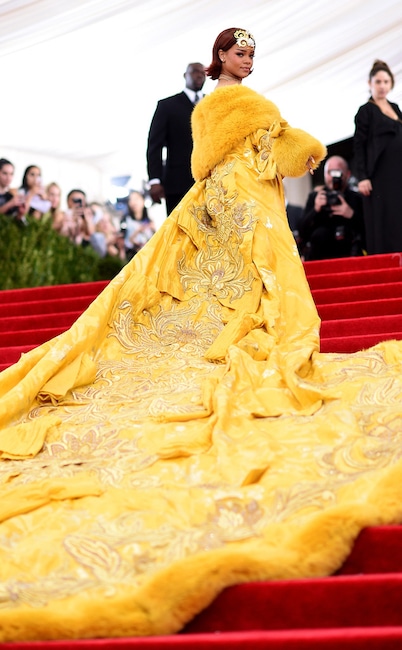 Dimitrios Kambouris/Getty Images
Rihanna

Rihanna makes everyone gasp when she enters the room in this bright yellow haute couture piece at the 2015 event. It's the legendary Guo Pei design that took everyone's breath away.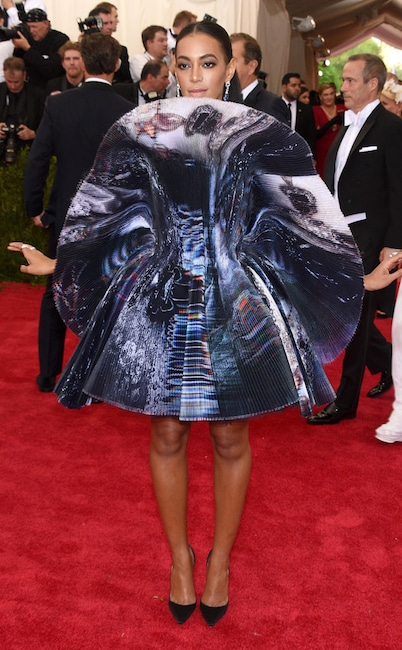 Larry Busacca/Getty Images
Solange

The 33-year-old star brings a fashion fantasy to the annual extravaganza. From the otherworldly pattern to the fan-like structure of her dress, this is one to remember!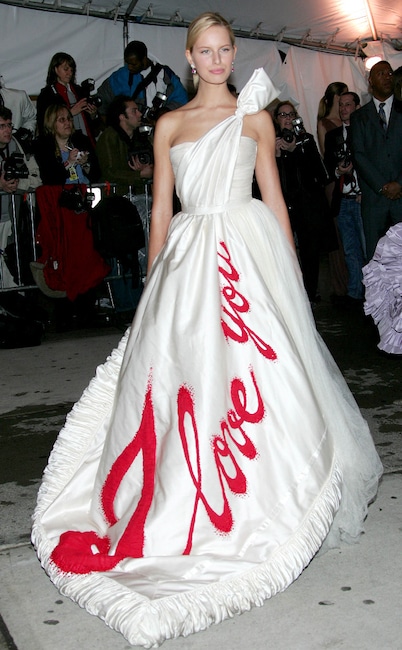 Evan Agostini/Getty Images
Karolina Kurkova

The model makes a fashion statement, literally! Celebrating Chanel at the 2005 gala, Karolina turns heads with her white-hot "I Love You" gown.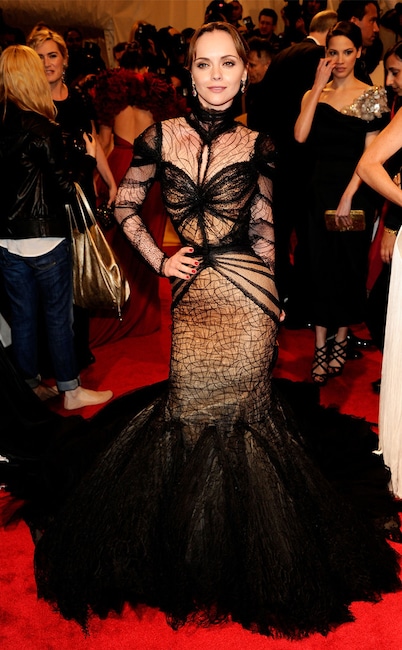 Kevin Mazur/WireImage
Christina Ricci

This is not your basique LBD. The actress drops jaws with her goth-glam design, which features massive tulle, a sheer bodice and a spider-like pattern.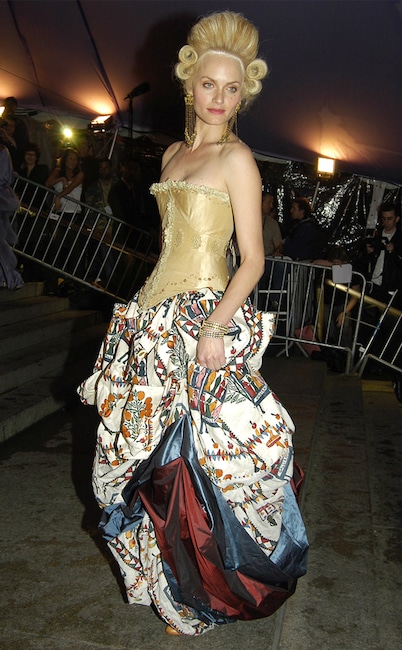 Rabbani and Solimene Photography/WireImage.com
Amber Valletta

Looking like royalty! The supermodel follows the theme in 2004—Dangerous Liaisons: Fashion and Furniture in the 18th Century. From her towering wig to her massive earrings to her voluminous quilted bottom, she pulls out all of the stops.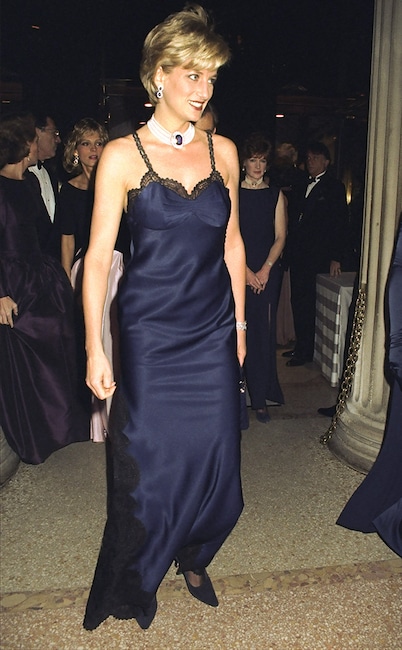 Richard Corkery/NY Daily News via Getty Images
Princess Diana

Princess Diana makes us clutch our pearls with her simple, yet striking royal blue slip dress by Dior at the 1996 fashion event.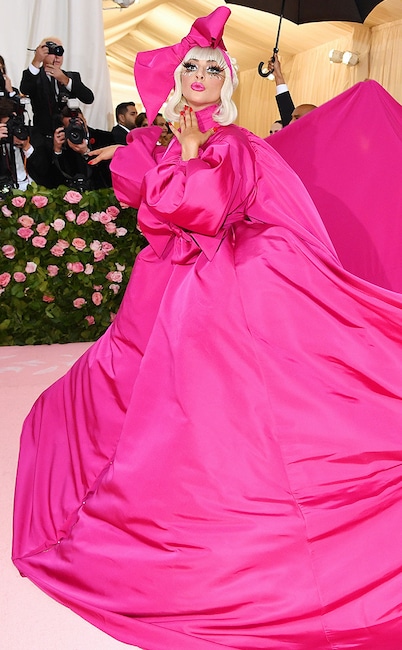 Dimitrios Kambouris/Getty Images for The Met Museum/Vogue
Lady Gaga

The pop star puts on a show with her dramatic outfit changes… that she does on the red carpet! From her bright and bold ensembles to her larger-than-life props, this is one for the books.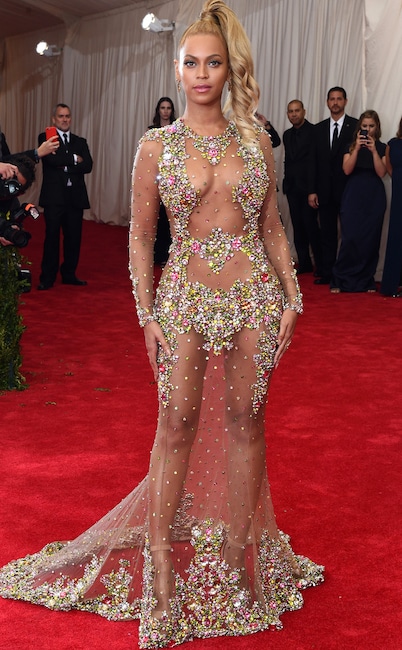 Jamie McCarthy/FilmMagic
Beyoncé

One word: iconique! The Homecoming star makes people ooh and aah with her bedazzled (and barely-there) design by Givenchy.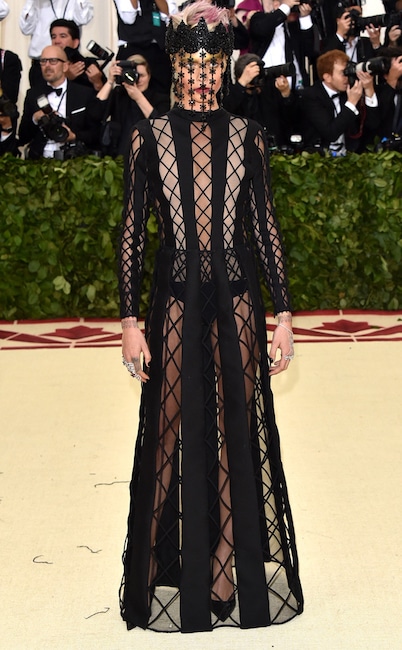 John Shearer/Getty Images
Cara Delevingne

In 2018, the supermodel follows the theme (Heavenly Bodies: Fashion & The Catholic Imagination) with a cheeky Dior design that looks like a confession box. From the cross-stitch pattern to the peek-a-boo material, this is taking us to church!
Ron Galella Collection via Getty Images
Cher

Cher makes fashion history with this divine and decadent number. From its lavish diamond beading to its voluminous feathers to its skin-like material, this Bob Mackie design is so grand that others have imitated it for decades.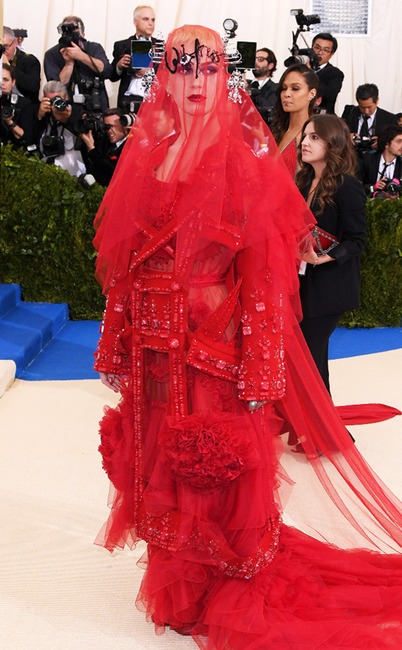 David Fisher/REX/Shutterstock
Katy Perry

Red hot! The American Idol judge lights up the room with her fiery red gown, matching veil and whimsical headpiece.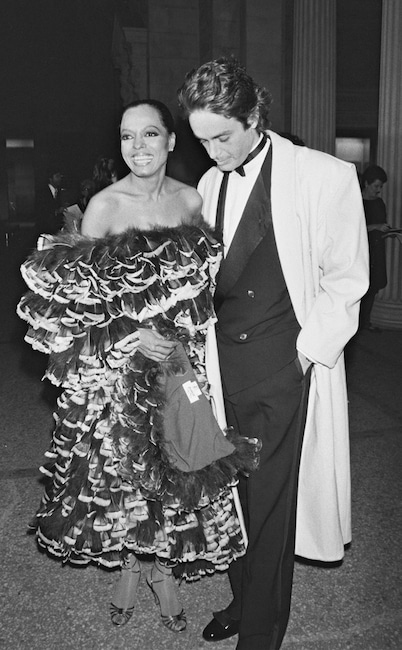 Bertrand Rindoff Petroff/Getty Images
Diana Ross

Diana Ross is the definition of glamour at the 1981 event with her vivacious and voluminous gown.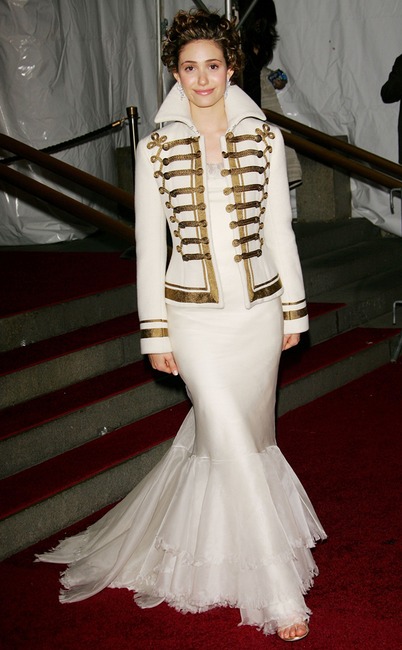 Evan Agostini/Getty Images
Emmy Rossum

The actress transports us to a different time with her take on the 2006 theme—AngloMania: Tradition and Transgression in British Fashion.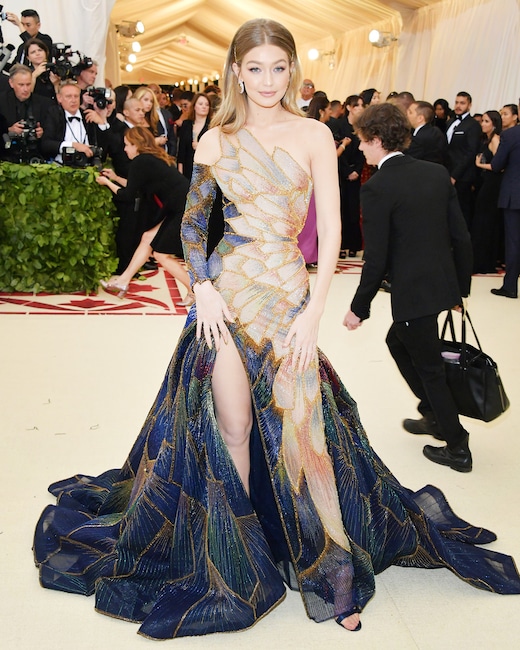 Neilson Barnard/Getty Images
Gigi Hadid

The 25-year-old supermodel exudes elegance and grace at the 2018 ceremony, with her ethereal and dazzling design. If anything, her dress looks like stained glass with its multicolored jewel embellishments.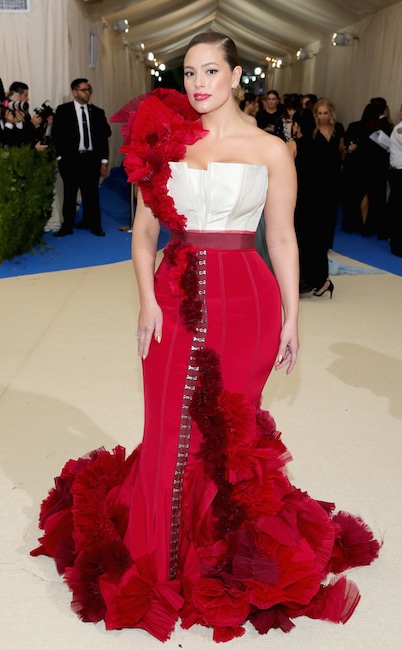 Neilson Barnard/Getty Images
Ashley Graham

Flower power! Ashley sashays onto the red carpet with an eye-catching dress. From the bouquet of roses to the body-hugging corset, the supermodel stuns at the 2017 event.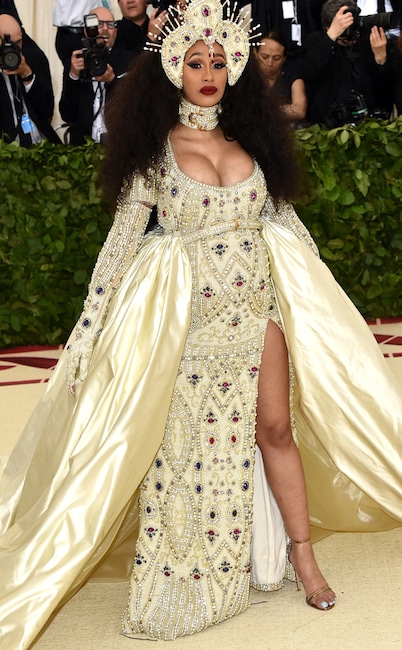 John Shearer/Getty Images for The Hollywood Reporter
Cardi B

Let's all take a moment of silence for this angelic and over-the-top ensemble. The "Press" rapper shows up and shows out for the 2018 event.
John Shearer/Getty Images
Bella Hadid

Sleek and chic! The 23-year-old supermodel hits the red carpet in a show-stopping catsuit. The skintight piece catches everyone's attention… and it's easy to see why.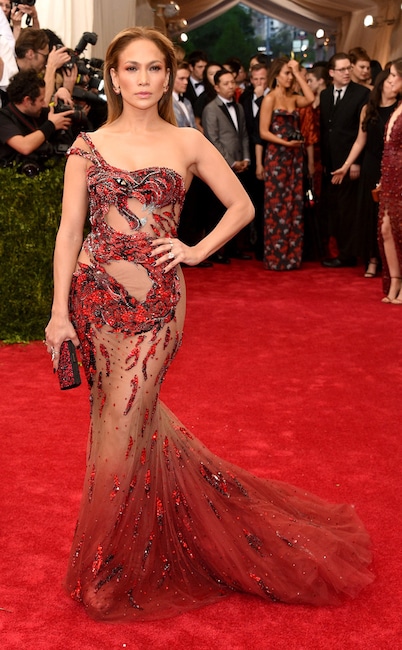 Larry Busacca/Getty Images
Jennifer Lopez

J.Lo dazzles in a drool-worthy piece that features sheer material, a body-hugging structure and fiery design of a dragon—which is made out of red, black and silver jewels (of course!).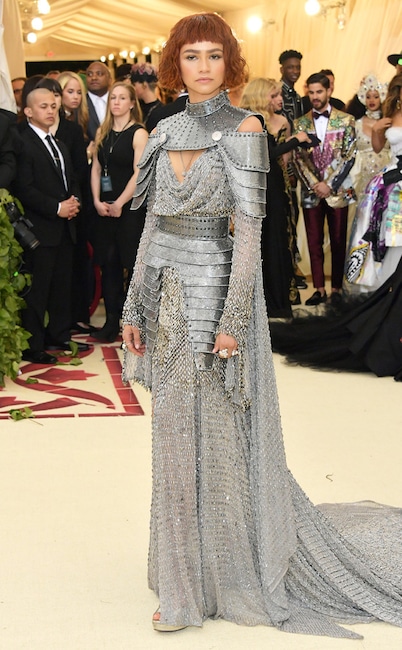 Neilson Barnard/Getty Images
Zendaya

The Euphoria actress blinds us with her head-to-toe silver ensemble, which features armor-like pieces, diamond embellishments and chainmail cuffs.
Larry Busacca/Getty Images
Kim Kardashian

Hate it or love, this custom Givenchy gown is unforgettable! The Keeping Up With the Kardashians star shows off her growing baby bump with her romantic long-sleeve design, which features an explosion of flowers.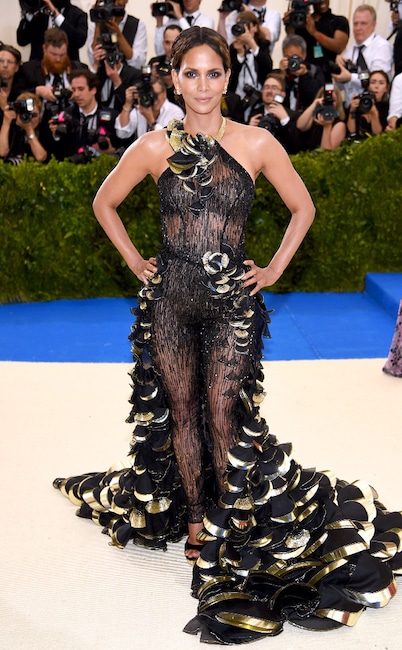 Dimitrios Kambouris/Getty Images
Halle Berry

Hot damn! The Oscar winner pulls out all of the fashion stops for the special occasion with her sheer, bedazzled gown. The massive flowers and gold details are a chef's kiss.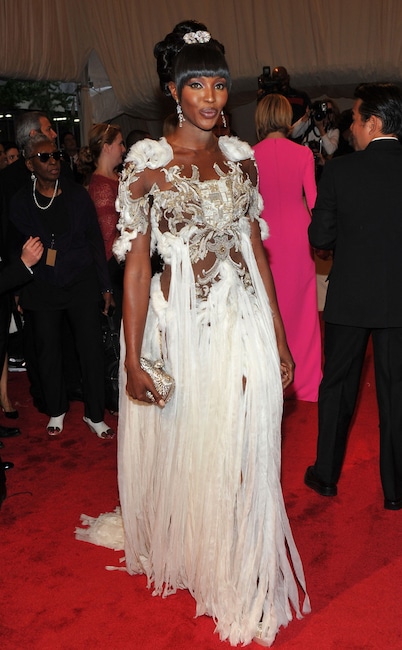 Stephen Lovekin/Getty Images
Naomi Campbell

Celebrating the late Alexander McQueen, the legendary supermodel traipases down the red carpet with an enchanting feathered gown.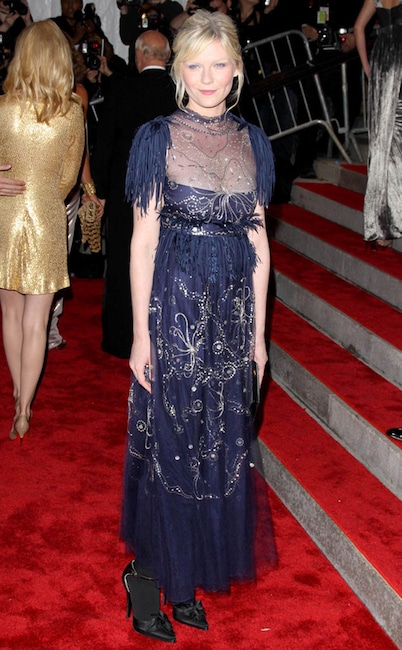 Philip Ramey/Corbis via Getty Images
Kirsten Dunst

The Bring It On alum dazzles in her royal blue gown, which features fringe beads, a delicate floral pattern, and a bedazzled sheer top.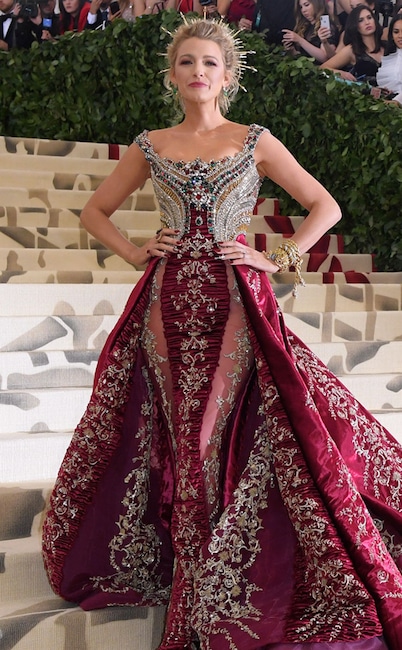 David Fisher/REX/Shutterstock
Blake Lively

The Simple Favor actress takes a fashion risk and it pays off! From her gold headpiece to the intricate embroidery and beading to the larger-than-life train, this lewk takes our breath away.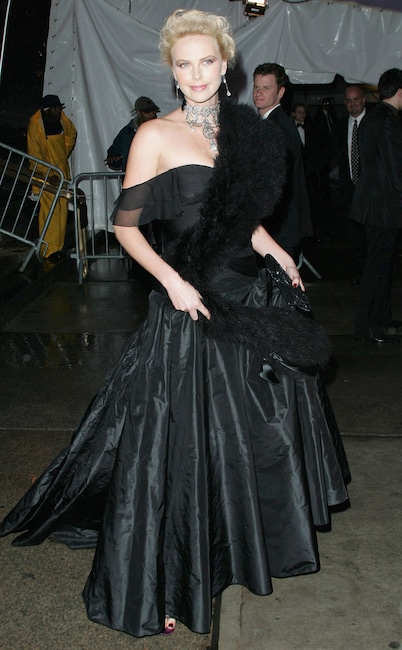 James Devaney/WireImage.com
Charlize Theron

Charlize Theron looks effortlessly elegant in her dramatic black gown at the 2004 fashion affair. Her lavish fuzzy boa and grand diamond necklace tie her ensemble together.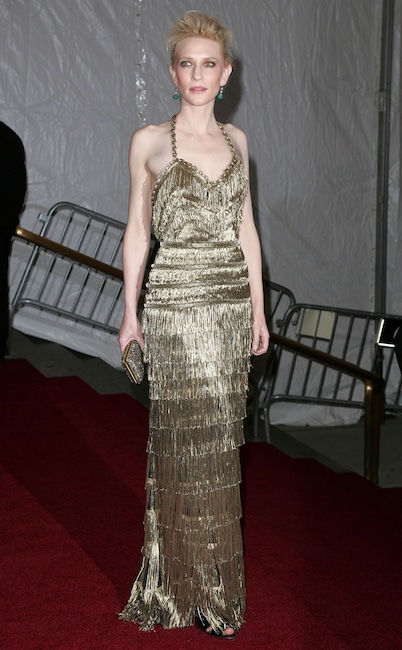 James Devaney/WireImage
Cate Blanchett

Gilded in gold! The Hollywood star looks statuesque in her flashy fringe gown. It's simply stunning.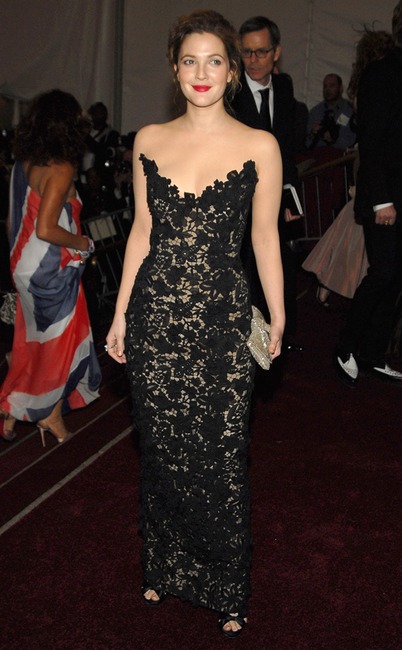 Dimitrios Kambouris/WireImage.com
Drew Barrymore

Barrymore brings the drama to the 2006 gala with her body-hugging lace gown. The pointed sweetheart line and her vibrant red lip make it all the more daring.
Published at Mon, 04 May 2020 16:00:00 +0000