Gwen Stefani's Best Quotes on Fashion & Her Style Evolution
Gwen Stefani knows more than a thing or two about fashion.
The 50-year-old performer, who is receiving the Fashion Icon Award at this year's 2019 E! People's Choice Awards, has spoken out about her love of style on a number of occasions.
From her early inspirations to how her relationship with Blake Shelton has affected her style, the "Hollaback Girl" singer has been an open book about the importance of fashion in her life.
The mother of three also shared how her music and style go hand in hand from rocking tomboy looks to wearing more feminine designer outfits. She even dreamed of creating her own stage costumes while still in school.
There is no denying that The Voice coach has come along way since those early days. She started her own fashion line, L.A.M.B., in 2003 and has seen the brand grow over the last 15 years. It has even shown at New York Fashion Week multiple times!
Check out all of Stefani's quotes on her fashion evolution and style in general below and don't miss the 2019 People's Choice Awards, airing live on E! on Sunday, Nov. 10.
Art Streiber/NBC
On Receiving the 2019 PCAs Fashion Icon Award

Gwen Stefani was thrilled to learn that she would be honored with the Fashion Icon Award at this year's 2019 E! People's Choice Awards.
"So to get to this point where I'm getting an award for fashion…it's kind of surreal and it just proves that if you just are true to who you are and just follow your own passion that weird things can happen…I love fashion. It never gets old for me," she exclusively told E! News when the PCAs honor was announced earlier this month.
"I think writing the music has always been sort of like the therapy and like the necessity and it's so unbelievably healing and it's so rewarding. And to be able to put a visual to whatever that emotion is in the music has been kind of the reward, the cherry on top," she added.
Todd Stefani and Robb Dipple
On Always Loving Fashion

Some people find their passion early in life and that was certainly the case for Stefani. She was always fascinated by style and costumes even before becoming the fashion icon that she is today.
"I remember back when No Doubt was just starting out: We didn't have a record out, and I was in school. I would spend my time daydreaming about what I was going to make for my costumes. That's something I've always done. As soon as I knew we had a show, I'd be off to the fabric store. And I'd be really excited. It's just something I've always, always done," she told Glamour in August 2009.
Frazer Harrison/BBMA2016/Getty Images for dcp
On Her Style Inspiration

The mother of three found inspiration everywhere from the glamorous style of old Hollywood stars to the happiness of Disneyland in her hometown of Anaheim, CA.
"I grew up near Disneyland, and my brother's an animator, so I was always really inspired by bright, cartoony colors and that whole feeling of happiness. But then again, growing up in Orange County, I was also really into chola gangster girls, too. Even being close to L.A., I was always inspired by old movies and Marilyn Monroe and the glamour of Hollywood. I even remember the day I discovered James Dean and Marilyn Monroe. I don't know why it affected me so strongly, but I walked down to the corner store and bought every poster of them, and I did my whole room up. Overnight," she shared in Teen Vogue in September 2014.
ABC/RICHARD HARBAUGH
On Music & Fashion

Music helped The Voice coach to discover who she was and consequently, defined her take on fashion and beauty.
"You know how you kind of can't explain why you have passions for certain things? I just always was that girl who was into style and makeup. I can remember getting into high school and getting into music and that's probably when it really started. My mom was quite fashionable, and she grew up in the '60s, which was such an amazing time period for [style]," she revealed to Vogue in January 2016. "Then [I got] into ska music, which was a nod to the '60s and '70s. The bands I was into—it wasn't a lot of girls, so I didn't really know how to dress."
Rich Fury/Getty Images
On Dressing for Your Personality

The 50-year-old performer doesn't believe that anyone should be defined by their age but rather dress for their personality. In finding her own look, she found inspiration from attending fashion shows and meeting her former stylist, Andrea Lieberman.
"For me, fashion is not really about age as much as it is reflecting your personality," she explained to Glamour in September 2014. "Your personality is what it is. I don't see that as I've grown and aged and matured in my life that I have much of a different personality, so I feel like there's definitely an evolution of style….But that's because I've come across some many talented people on my journey that have influenced [me]…Anything along that way that's pointed me into a new direction to evolve as style."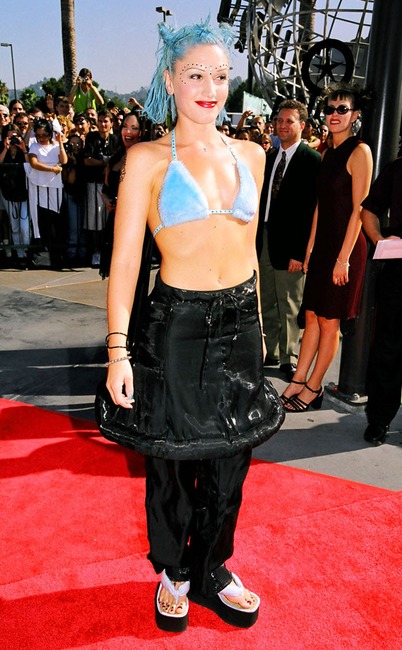 Jeff Kravitz/FilmMagic
On Touring With No Doubt

The early days of No Doubt were wild but Stefani loved putting together outfits with Lieberman while on tour with the band.
"You know when you're living in a time, you don't look at it the same way? It doesn't seem clear to me what the fashion was. I know that I was all over the place," she revealed to Vogue in January 2016. "I never had a stylist or a makeup artist or even an assistant. I had my makeup box and I had my suitcase. I was on tour for two and a half years, I never came home. I had a girl who would send me swatches out on the road. I would be like, 'Okay, I want a pair of yellow punker pants.' We already had the pattern, so I would send [the swatch] back to her with instructions like, 'I want this zipper here.' Then she would FedEx that shit to me on the road, without a fitting, and I would just wear it onstage and just hope that it worked out! So when I look back at what I wore, I see a lot of mess. That was just me making it up as I went. Nobody told me or helped me. It wasn't until I met Andrea, doing the video 'Let Me Blow Ya Mind'—that's when I did Rock Steady, and that's [the point in my career] when I start to be really proud. I don't have any fashion regrets or anything like that, it's just when I started to get older and more sophisticated…There's some stuff me and Andrea did together that I can't even believe how beautiful it was. I would come to her with an idea or a theme, and she would just take that to another place that was so creative. I want to cry when I think that I don't work with her anymore, because she's my favorite person ever."
Stefanie Keenan/Getty Images for BeautyCon
On Becoming A Designer

Stefani became a fashion designer when she created L.A.M.B. in 2003. The singer has opened up about the evolution of fashion and how she doesn't want her brand to ever become stagnant.
"I look back on 15 years as a designer and realize that, by its nature, fashion is always progressing. You can't hold it in one place or stand still," she told The Hollywood Reporter in February 2019. "I learned to be very open because you're always evolving; that's what fashion is, too. Another collection, another season. It doesn't get old."
Pascal Le Segretain/Getty Images
On How Finding Love with Blake Shelton Changed Her Style

It's not only music that has helped to evolve Stefani's fashion. Finding love with boyfriend, Blake Shelton, has allowed her to try new looks that are more feminine than back in her No Doubt days.
"More feminine than ever before. It's probably because I'm super in love and have a really manly man [Shelton]," she shared with InStyle in July 2018. "I enjoy letting that part of me come out now because when I was in No Doubt, I never thought of myself as sexy. Even in my 30s, I was a tomboy. I hardly ever carried a purse."
Watch the 2019 People's Choice Awards Sunday, Nov. 10 at 9 p.m., only on E!
Published at Wed, 23 Oct 2019 13:00:00 +0000